Recently,

Blu

over at

Therapy By Thread

posted an excellent finish of

Dragon Dreams'

epic fantasy-inspired

The Runekeeper Saga

. What I especially love about this post is the really nifty slideshow Blu made showing a picture of the work after each colour was added. I've never seen anyone work this way before on a large scale, and I imagine it takes a great deal of dedication and quite a lot of patience.
This is the pattern image from the site: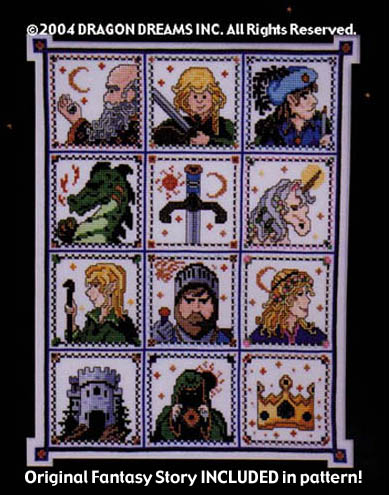 Many years ago, when the designer (Jennifer Aikman-Smith) released these squares as free designs, I stitched the Dragon and the Unicorn. I originally planned to do a triptych, with the Castle in the middle, but I never got around to it. I'm not sure if all of The Runekeeper's pieces were released as freebies, but I believe they were, as I remember the Sword and the Wizard; I'm sorry I don't have the exact date, as I do not have the patterns here with me.
A few months ago, I discovered my can of small unfinished stitching works, and among them were these two long-lost (well, not really; I knew handy-abouts where they were, but haven't had them with me for a while) favourites. So, I present Mr. Dragon, in all his glory:
And Ms. Unicorn, in all her splendour:
Now, these are as they were, right out of their plastic bag, where they've lain in my stitching can for well nigh a decade now. They need to be cleaned, blocked and ironed before any framing takes place, so this is hardly a grand reveal. But I thought they would be interesting examples of the ways that you can interpret designs differently.
For example, I changed the colourways of both designs pretty dramatically.
I wanted both to be bright, and I wanted them to coordinate, as they were intended to be facing each other from across the castle in the center. I omitted the stars from the Unicorn and added the butterflies instead (so that there would be some element to reflect back on the Dragon's smoke). I also omitted the moon behind her horn, as I wanted the emphasis to be on the gold of the horn and the gold on the claws of the Dragon. The blackwork borders were my invention as well, although I can't precisely remember where they came from. I do recall designing the arch at the top of each work, as I wanted something gem-like in the middle, but I think the sides were from another pattern.
It wasn't until I took them out to photograph them that I realized I had goofed! The keen-eyed among you may notice that I forgot to add the bottom line to the center of the bottom Unicorn border. Oops! Something to be remedied at a later date. Thankfully, the colour is famaliar, as I used my go-to backstitch shade for these - DMC 3371. Referred to as "Black Brown" in the DMC Colour Charts, this colour is an unusual shade that is dark and rich yet not as harsh as black is against white. I've heard it compared to bittersweet chocolate, which is about right, but it really looks a bit different depending upon the viewing angle.
So, here they are! I may get around to doing the Castle one day, if I find my stitching box with my patterns in it, or I may just frame the two of them in a butterfly frame (one of the ones with two frames connected by hinges; I know there's a proper name, but that's what I've always called them). At the very least, I'd like to clean them up a little bit soon :)
As for my Blackwork Bookmark, I've put it on hold for the moment. I intended to stitch it together by hand, but my Mother suggested that stitching it on the sewing machine will lend it more strength and longevity. Since I'm hoping it won't abandon me anytime soon, I've decided to wait until she has some time free to show me how to do it. You see, the sewing machine and I have a complicated relationship. While a great friend of my Mother, I am wary of it and it is wary of me in return. And so we mostly take care to stay out of each other's way. I am deeply dubious that this has any chance of working out well, but we'll see.
I'm keeping my fingers crossed :)